I made the mistake of painting my Benotto black after first getting it about a decade ago. Today I'm restoring it back to something fitting of the Benotto name. But first I wanted to research and find out the model of my bike. It's proving really difficult so I'm documenting what I'm learning about Benotto's and hopefully it will help others identify their bikes in the future. Also, thanks to Kris for commenting on part 1 of the restoration, that encouraged me to document in more detail about the frame.
This bicycle restoration is turning out to be a bit addictive. Here's a quick recap thus far. At first things were going pretty well, stripping the frame for sanding went quickly. Then, tragically while sanding the frame to prepare for paint the centre cable guide snapped off. I rotated the frame in my bike stand unfortunately catching the cable guide.
As a kid I learned to play the violin. My violin was the least expensive model from our local music store, but for my parents it was a big purchase. It was the middle of the day, a few years after first getting it, and I sat down on the edge of my bed, not noticing my violin behind me. I snapped the bridge. I was devastated. At that time of my life my violin was hugely important to me.
I remember my mom walking into the room, looked at the violin, looked at me, and said the last thing I could have expected, "Jon, you need to look at this as a positive thing. Be thankful that you broke your violin." None of those words made any sense to me in that moment, yet I chose to follow her advice.
We went back to the local music store. The owner was standing behind the counter, he took a look at my violin, and calmly told us, "I may be able to fix this." He rummaged around the supplies in the back corner and came back with a new bridge. "Ahh, I've got one, perfect."
Taking my violin, the new bridge, and a small file he immediately went to work. About 15 minutes later my violin was back together, tuned and ready to play. I played a chord, it had never sounded so rich. A year or so later my instructor would marvel at the violin, she would go on to ask me how much I paid for it. After telling her, she responded that I must have gotten very lucky as it had a better sound than many violins thousands of dollars more expensive.
My mother's comment now made sense.
So last week I took a deep breath and ground off the last 2 remaining cable guides from my Benotto. I looked online, found some new braze-on cable guides that I could purchase, but they would be different to the originals. Later, while watching the classic Paris-Roubaix documentary "A Sunday In Hell" a new idea formed.
Benotto used cable guide clamps until 1976-77. After which they moved to braze-on cable guides. Because I had already removed the cable guides, why not use the vintage cable guide clamps and restore the bike to be like the one used by Francesco Moser in the 1976 Paris Roubaix race.
With that decision made, it's back on the restoration train.
Identifying 1979-1980s Benotto's by the frame and fork:
In part 1 I explained why the original model and year is unknown. Also, some of the components are original, and some are not… all of which makes identifying the bike just that much more challenging.
Step 1: Benotto Chainstays
Benotto 3000 chain stays are diamond shape. All other models had the "eye" indents. Quick look at history, the Benotto 2500 was the highest model until the early 1970s, then by the late 1970s Modelo 3000 was the top model.
My Benotto's chain stay definitely would indicate a model 2500 or lower.
Step 2: Seat post opening.
Benotto frames have the same outside diameter. However, the inside diameter changes depending on the metal used. For example, Columbus SL has a seat post diameter of 27.2mm as the metal is 0.6mm thick. Columbus SP has a seat post diameter of 27.0mm as the steel is 0.7mm thick. Columbus Aelle has a seat post diameter of 26.8mm, the steel is 0.8mm thick. Columbus Zeta has a seat post of diameter of 26.6mm, the steel is 0.9mm thick. Finally, Columbus double butted steel and plain gauge steel is 1.0mm thick with a seat opening of 26.4mm.
Benotto racing road bikes are listed from highest model to lowest by numbers. Benotto Model0 100-800 are entry level bikes. The Modelo 850 is the first of the amateur series bikes.
Modelo 3000 used Columbus SL
Modelo 2500 used Columbus SL
Modelo 2000 used Columbus SP
Modelo 1600 used Columbus Zeta or Aelle
Modelo 1500 used Columbus Zeta or Aelle
Modelo 1000 used Columbus Zeta
Modelo 850 used Columbus Zeta
Modelo 800 used Columbus double-butted steel, or straight gauge moly steel.
Model 700 (unknown)
Model 500 (unknown)
Model 100 (unknown, but 1976 catalog says it uses light-weight steel.)
You can view a PDF document outlining all 1979 Columbus steel tubes here.
Measured my seat post and it was 26.6mm. That would put it somewhere between a Modelo 850-1600.
Step 3. Rear derailleur cable guide.
From all the research I've done I've concluded that Benotto moved their brazed on derailleur cable guides from above the bottom bracket prior to below the bottom bracket in 1979. 1976 and earlier had the clamp on guides.
Looking at my bike's rear derailleur cable guides and bottom bracket would indicate that it is a 1979 and later model.
Step 4. Rear drop outs
Benotto Modelo 3000 has Campagnolo rear drop outs.
Benotto Modelo 2500, 2000, 1600, 1500, 850 had Benotto rear drop outs
Benotto Model 800 and lower had Suntour, Benotto or other rear dropout
My bike has the Benotto rear drop outs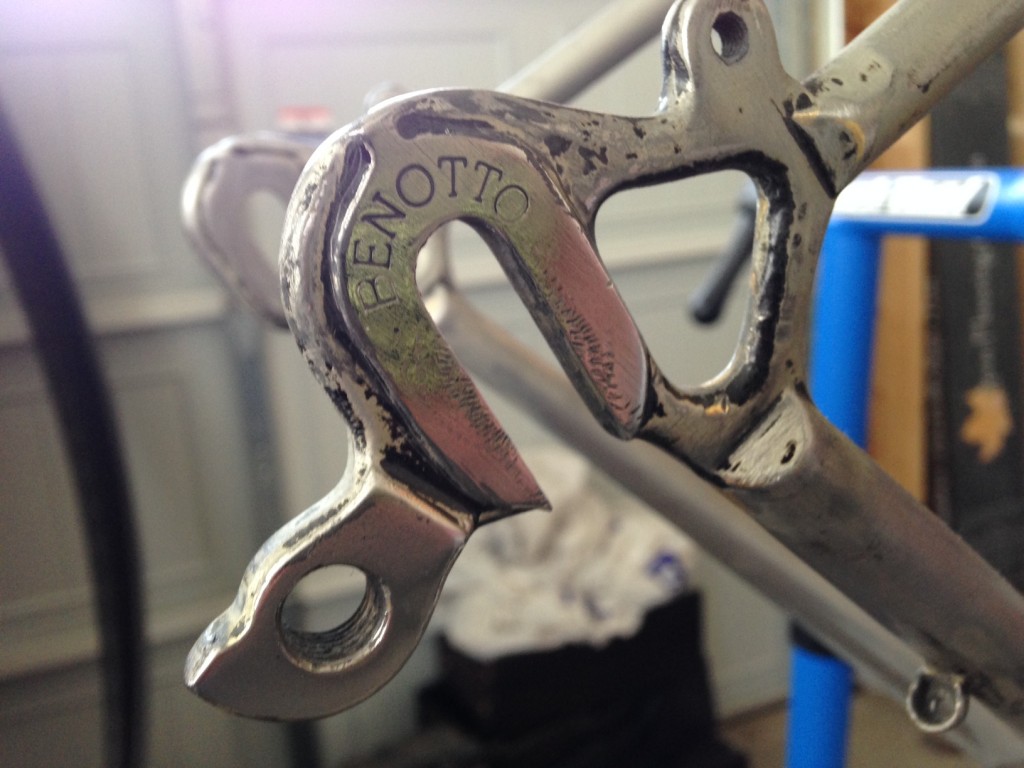 Step 5. Tubing vs Pipe
It's not always possible to see this. In my case, because I sanded my frame down to bare metal I could make this observation.
Steel Tubing frames are made in forms and molds. Whereas piped frames are rolled metal. From a strength perspective there are tradeoffs. Randy from mytenspeeds.com mentioned that tubing can be more fragile than piping. But Tubing can generally be made to be thinner in some areas and thicker in others to save weight. Piping is uniform in thickness. Columbus frames are made of tubing.
I noticed what appear to be seams in the metal. That would mean that the frame is made of piping. It's interesting to note that my seat tube was 26.6mm. So perhaps Benotto used a thinner piping. Either way my Benotto must be a Modelo 800 or lower.
Okay, so that's where I am in the process so far.
More posts to come. Will write a piece about Benotto Forks as that should give some more clues. Will hopefully have the sanding completed and primer soon.